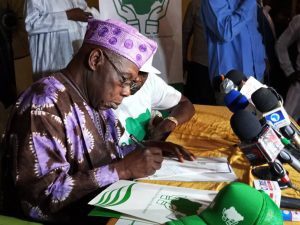 Former President, Chief Olusegun Obasanjohas inaugurated his much-touted Coalition for Nigeria Movement in Abeokuta, Ogun state.
At the launch were former governors of Cross River and Osun States, Donald Duke and Prince Olagunsoye Oyinlola.
The duo inaugurated the political movement launched in Abuja on Wednesday.
Obasanjo later filled his form as a member of the coalition and submitted it to the national coordinator, Oyinlola.
Meanwhile, the ruling All Progressive Congress (APC) says the prospect of a coalition ahead of the 2019 general elections does not constitute a threat worth worrying about.
It rather worries about the crave for power and advises Nigerians to be careful.