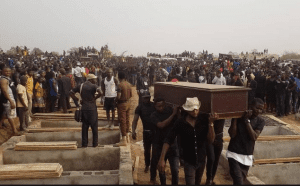 The Nigeria Police, Benue State Command, said it has arrested four principal suspects in connection with the January 1st massacre in Benue State and killing of Sgt Solomon Dung and other Police Officers.According to a statement by the command, the arrest is in line with the directives of IGP Ibrahim Idris on the arrest of all Persons involved in the killings in Benue State and those in possession of AK47 Rifles and other prohibited arms.
The suspects were arrested in Tunga town Nasarawa State between 16th to 19th February 2018 by Intelligent Response Team
Those arrested are: Alhaji Laggi 40yrs (Mastermind and Gang leader of the Herdsmen Group),  Mallam Mumini Abdullahi,  34yrs,  Muhammed Adamu, 30yrs and Ibrahim Sule, 32yrs.
The stated added the suspects have confessed to the killings and mentioned gang members in possession of the police rifles they took from the slain Police Officers and others in possession of arms.
Advertisement