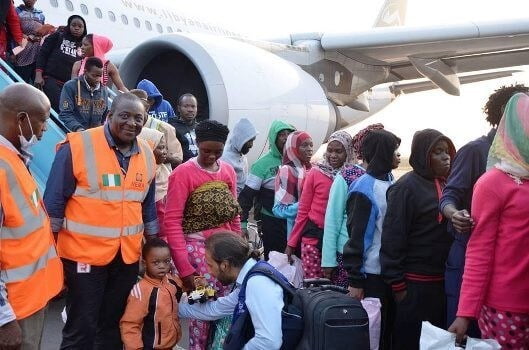 Another batch of Nigerian migrants have returned to the country as part of the federal government's ongoing effort to evacuate its citizens from Libya.More than 500 men, women and children were aboard the flight from Tripoli to the Port Harcourt international airport making this batch of returnees, the largest so far.
TVC News Correspondent Uche Okoro reports that the fanfare that greeted the return of the Nigerian citizens from the Libyan capital, Tripoli, was nothing like the air of secrecy that surrounded their departure.
The sick ones amongst them were the first to make their way out of the airplane into waiting ambulances.
The National Emergency Management Agency, NEMA has had its hands very full in the last few weeks and is now appealing to some state Governors to expedite action in evacuating the returnees to their respective states of origin.