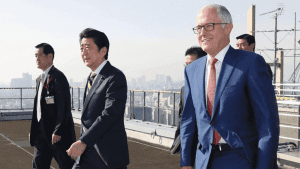 Australian Prime Minister Malcolm Turnbull's one-day visit to Japan has offered a reflection of the strategic change in the Australian government's approach and acknowledgment towards its geographical location.
Stewart Jackson, a lecturer in the Department of Government and International Relations at the University of Sydney said that at this point of time, the visit has been more beneficial to Japan.
The expert also said that as the United States, a traditional ally, has reduced its influence in the region, Australia is strategically positioning itself and seeking for other alliances in the Asia-Pacific region.