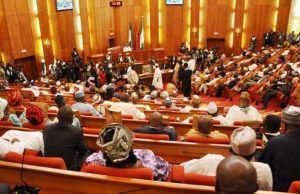 The Senate Committee on Power has questioned some allocations for power plants across Nigeria saying the budget of the Federal Government in 2018 for funding power generation remains vague and needs to be more detailed.
Chairman of the Committee, Senator Enyinanya Abaribe and other lawmakers made the observations at the budget defence of the ministry of Power, Works and Housing which had the Minister of State, Mustapha Baba-Shehuri in attendance.
Senators described the 2018 budgetary provisions for hydropower plants such as Kashimbilla, Zungeru dams and Katsina windmills as unsatisfactory including some recurrent expenditures for bureaucratic operations.
Following questions on the state of the 215 megawatts Kaduna power plant, the Minister of State assured that the project would soon be concluded especially with the recent gas contract approved by FEC.