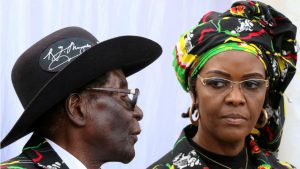 Four people accused of booing Zimbabwean First Lady, Grace Mugabe, appeared in court this Friday.
According to state media, all four, three men and a woman face charges of undermining the president's authority, and have been remanded in custody pending a bail hearing.
They were arrested after last Saturday's rally in Bulawayo, where supporters of former Vice-President Emmerson Mnangagwa heckled Mrs Mugabe as she spoke at a rally.
The booing came amid a bitter battle between rival factions to succeed President Mugabe.
Advertisement

Mr Mnangagwa was sacked two days after the heckling and has since fled the country.
Mrs Mugabe is now expected to be appointed vice-president at a special congress of the ruling Zanu-PF party next month.