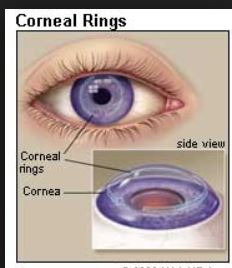 Nollywood actor Dakore Egbuson Akande who was made eye Bank Ambassador of Nigeria has decided to donate her cornea to
 the needy when she is gone and no longer in need of it. She took to her twitter handle to inform her fans, saying:
My Awesome #Dakorefam ?✨ hope you're having an awesome Tuesday so far? My #tbt is fairly recent…I was officially unveiled as the Ambassador for the Eye bank of Nigeria with the
 aim of sensitizing the public about the need for Cornea donors to help those with reversible blindness. ??I pledged my cornea that day and what that means is when I leave this earth I willingly donate my cornea to help give the gift of sight especially as I would no longer be needing it….what are your views on this and becoming a donor in general? I would really appreciate your kind feedback so we can start the conversation…will you be willing to do it for a loved one or a stranger?                                                                                                                                             
How do you SEE it? Factors that prevent most people from doing this is fear but of what exactly? Do share your comments…♥️✨?? #Iamacorneadonor#NowISEEcampaign #Doyou? #slayforacause                                                                                 
 She continued saying: "Cornea is the delicate tissue responsible for the control and focus of light into the eyes.
This tissue can be damaged by trauma or infection resulting in corneal blindness. This type of blindness is reversible with the transplant of cornea tissues from a donor upon
demise to a recipient.
Now I see that by pledging my cornea, I will leave behind a legacy of love and selflessness.
I see that I can live for something greater than myself.
I see that I can contribute positively to humanity and make the world better than I left it. 
NOW I SEE
….CAN YOU? Pledge your cornea today! 
#IAmACorneaDonor #EyebankAmbassador For further information, please visit;
The Eye Bank for Restoring Sight,
Lagos State University Teaching Hospital,
1-5, Oba Akinjobi Way, GRA, Ikeja,
Lagos State.
E-mail: nigeriaeyebank@gmail.com
Tel: +234-8057715029, +234-8036548791
www.eyebankng.com