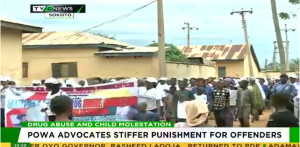 Wives of men and officers of the Nigeria Police under the auspices of Police Officers Wives Association, Sokoto state chapter has charged the Sokoto state government to come down hard on the rising crimes related to drug abuse and child molestation in the state.
The Acting Chairperson of the Organisation in Sokoto state, Aishatu Mainasara Maru also called on the general public to join government and the law enforcement agencies in battling this new dimension in crime.
She stated this during a rally to create awareness among the people of Sokoto metropolis against this drug related crimes which have become rampant in recent times.
They are wives of the men and officers of the Nigerian police, and they say, they have been forced to take to the streets to campaign against these rising drug related crimes and child molestation in Sokoto State.
They roll out drums and march with their children through the streets of Sokoto metropolis  with the support of their husbands in the Nigerian Police band.
They say they are worried with the daily reports of cases of drug addiction and child molestation that have become a recurring decimal in most of the police stations across the state.
And they want the government and the people of Sokoto to take a hard stand against these crimes.
In a swift response Sokoto state executive council says, they have finalised arrangements to renew the state Penal code which will address new and emerging crimes such as terrorism, cattle rustling, rape, child molestation, drug abuse among other crimes.
According to the state Attorney General, Barrister Suleiman Mohammed (SAN) a new Penal code tagged Sokoto State Penal Code 2017 will replace the old one that has been in existence for the past  fifty seven years.
Sokoto state is arguably the most peaceful state in Nigeria, but the rising rates of drug addiction and thuggery among the youths in recent times, is threatening the harmony the state is renowned for and has become a source of worry for its residents.