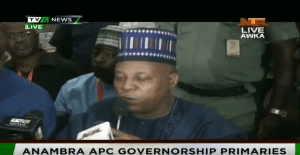 A member representing Anambra East/West constituency of Anambra state in the House of Representatives, Hon. Tony Nwoye, has emerged the All Progressives Congress governorship candidate in  November 18 election in Anambra State.
Nwoye polled a total of 2,146 Votes to defeat his closest rival, Senator Andy Ubah who polled a total of 916 votes.
Announcing the winner, chairman of the APC Governorship Primaries and governor of Borno State, Kashim Shettima, said the electoral committee demonstrated fairness and openness  throughout the process. He added that despite the state (Anambra) being labelled the headquarters of election rigging in Nigeria, his committee ensured transparency to right the wrongs of the past.
Born on 13th September 1974, Nwoye went to Metropolitan Secondary School, Onitsha for his secondary education from where he proceeded to study medicine at the University of Nigeria, Enugu campus and Ebonyi State University where he was sworn in as a medical doctor.
Nwoye started his political career as a medical student where he functioned in different capacities. He later became the first medical student to become the speaker of the student union house of representatives in the University of Nigeria. He received an award from the then Vice Chancellor, Prof Ginigeme Mbanefo, for the role he played in fighting cultism in the school.
He became the national president of National Association Nigerian Students in December 2003.
He became Assistant Secretary of the Executive Committee of the Anambra State PDP in 2005 and by 2006 at the age of 31, he became the Chairman of the State Executive Committee of the Anambra State PDP.
In 2013 he contested for the governorship seat of the state on the platform of the PDP where he came second to the incumbent governor of the state, Willie Obiano of the All Progressives Grand Alliance.
Nwoye is currently in the National Assembly, representing Anambra East/Anambra West constituency.
See the detailed results below:
Paul Chukwuma – 110 votes
Mattew Nonso – 21 Votes
Moghalu John – 525 Votes
Pat Nwibe – 414 votes
Nwike Patrick – 20 Votes
Tony Nwoye – 2,146 Votes
Obidigbo Chuke – 22 Votes
Okonkwo Donatus – 10 Votes
Don Bosco – 85 Votes
Andy Uba – 931 votes
Uchegu Adeobi :1 vote