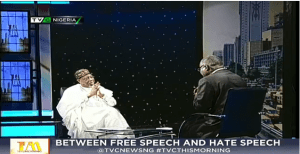 Minister of Information and Culture, Alhaji Lai Mohammed has debunked reports that the National Broadcasting Commission (NBC) has rolled out new regulations to censor the operations of some radio and television programs.
Mr Mohammed who was a guest on TVC News' This Morning on Monday, said that at no time did the NBC or the Ministry of Information tell media organisations to overhaul how phone-in programs are broadcast.
There had been reports on August 17th that the NBC announced that it would fine broadcast stations a sum of N500,000 for any perceived hate speech expressed by callers during phone-in programs.
The reports quoted NBC zonal director, Matthew Okoduwa as limiting newspaper reviews to once a day, urging viewers and listeners to contribute such reviews on social media rather than on television or radio programs.
"Mr. Okoduwa mandated that broadcast stations use screeners to censor calls before they go live on programs. He also said programs can only have five call-in shows per day.
"The commission also mandated that henceforth, the cost of phone calls must be borne by the station and not individuals calling in," a report said.
But Mr Mohammed challenged those propagating the report to come out and "say all these laws emanated from the NBC."
"We will do nothing to stifle the media but we call on the media to self-regulate or self-destruct," he said.
Mr Mohammed also challenged media organisations to properly investigate the source of any story before circulating.
"All these fake news/ hate speech is just to distort the hard work of the government," he said.
Written by Wale Fakile.