Micro blogging site, Twitter has permanently blacklisted the account of Katie Hopkins, a British conservative commentator for breaching its rules on abuse and hateful conduct.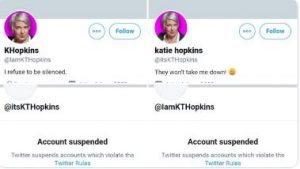 This was confirmed by a twitter official who said "Keeping Twitter safe is a top priority for us – abuse and hateful conduct have no place on our service and we will continue to take action when our Rules are broken. In this case, the account has been permanently suspended for violations of our Hateful Conduct policy".
Katie Hopkins,  a far-right British commentator and former contestant on the British edition of "The Apprentice" reality TV show, had over 1.1 million followers before she was suspended from the social media site.
Twitter has been heavily-criticised for allowing her account to stay despite her several violations of the platform's rule on hateful conduct.
The far-right racist had gained a large amount of backlash and hate over the years for the messages she sends out on the social media platform which includes hateful comments on religion, race, immigration and others.
Over 75,000 people were said to have signed their name to the Change.Org petition to get the former Apprentice star's account suspended.
The most recent which caused a stir by mocking the Black Lives Matter protests.
According to reports, it is not the first time the columnist's has been suspended from Twitter.
In January her one million follower Twitter account was temporarily suspended.