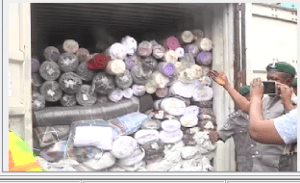 The Kirikiri Lighter Terminal Command of the Nigerian Customs Service has detained a forty-foot container of smuggled Army camouflage materials in Lagos.
The military apparels imported from China were falsely declared and concealed within rolls of polyester materials and packages of thread.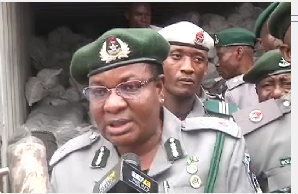 TVC News Correspondent, Ifunanya Eze reports that the Area Comptroller, Lami Wushishi explained that the importer's declaration form was said to be 200 packages of thread and 150 packages of polyester materials. But upon the 100 percent examination of the container by Customs officers, 1,732 rolls of plain army uniform and 2,666 rolls of military camouflage uniform were uncovered.
She also stated that the importation of military apparels require special permit and that the importer of this consignment could not provide any when questioned.
Handing the seized container over to the Department of state Security, Comptroller Wushishi noted that further investigation is needed in view of the current security issues in the country.