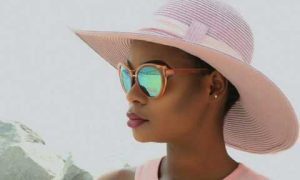 Eyitemi Olajumoke, former bread seller's success story features on BBC Africa weeks after she
The stunning mother of two gets to be featured on the International British Broadcasting Company (BBC) branch in Africa where she revealed more about her life before the fame and how she is enjoying every bit of it. From a humble beginning, hawking bread on the streets of Agege, Lagos, fate smiled on Olajumoke Orisanuga and today, she is a celebrity model. Jumoke's grass to grace
story was connected to life-changing photos of ace photographer and R&B singer, TY Bello. She described her new life as a blessing stating that if she hadn't been hawking the day she was discovered, she would still be at the bakery. Olajumoke who recently launched her Vlog and reality show few months ago revealed that she does not want it to end.
The Broadcasting Channel referred to her as the Nigerian Cinderalla. Olajumoke is a proof that one can be lifted from a tiny spot to a bigger place when it is time and when God says it is, things can turn around from anywhere. The pretty model told BBC Africa that it was very hard when she was selling bread and trying to feed her children. She revealed that although they did not live with her in Lagos with her and life in Lagos was pretty hectic and hard for her.
Olajumoke revealed that in Lagos one had to be strong to survive and she was all that till today. She thanked God for the day she photo bombed Tinie Tempah shot and prayed that her favorable days continue to flourish. Although it has not been easy for the model to adjust with her new found life style but according to her, she has gained some training as everyone who is part of her success story has been of help to her in the best way they can. Olajumoke told BBC Africa that now she is used to the fame , spotlight, pose and stardom. She is now a national celebrity and a successful model in the Nigerian modelling industry who hopes for greater heights.