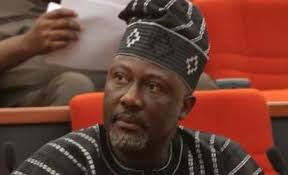 The Independent National Electoral Commission, has released the timetable for the recall of the senator representing Kogi West, Dino Melaye.
INEC's decision comes amid efforts by Melaye's lawyer to stop the commission from starting the recall process.
The electoral body had last week acknowledged receiving a petition from Senator Melaye's constituents seeking to recall him.
The commission had also formally written to the senator informing him of receiving the petition, and its readiness to begin the process this July.
Advertisement

Below's the timetable for the recall :
1…1 10th July 2017
Notice of Verification to be posted at the constituency (INEC LGA Office Lokoja)
2 …31st July 2017
Last day for submission of application by interested observers INEC Headquarters
3… 10th August 2017
Last day for submission of names of verification agents for the member sought to be recalled and the petitioners by a letter addressed and submitted to the REC.
4… 15th August 2017
Stakeholders meeting INEC State Office
5… 19th August 2017
Conduct of Verification To be held in all Polling Units in the constituency
6… 19th August 2017
Declaration of the outcome of verification At the Constituency (INEC LGA Office Lokoja)