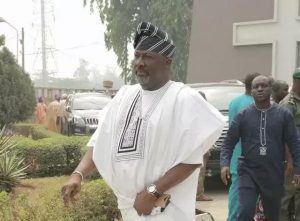 The Independent National Electoral Commission, INEC, has released the time table for the recall of the senator representing Kogi West, Dino Melaye on Monday.
INEC had acknowledged receiving a petition from Mr. Melaye's constituents asking to recall him last week.
The commission also wrote to the senator intimating him formally of its receipt of the petition and that it would kickstart the process on July 3.
Some 52 per cent of registered voters in the lawmaker's constituency are believed to have signed the petition.
Advertisement

Based on the timetable, INEC will give a notice of verification on July 10, 2017. The notice would be posted at the commission's LGA office in Lokoja.
July 31 would be the last day for submission of application by interested observers at the INEC headquarters.