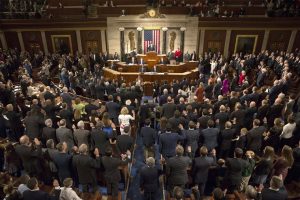 The US House of Representatives narrowly passed a Republican effort to repeal and replace Obamacare, delivering a welcome victory to President Donald Trump after early legislative stumbles.
Republicans needed 216 votes in the House and it passed with 217 with No Democrats voting in favour.
The American Health Care Act passed after weeks of cajoling within the Republican party to muster enough support.
It has been opposed by Democrats and several groups representing patients, doctors and hospitals.
The bill next heads to the Senate, possibly in June. This is Donald Trump's first legislative victory.
Congressional Budget Office estimates 14 million more Americans would lose insurance in 2018 alone.