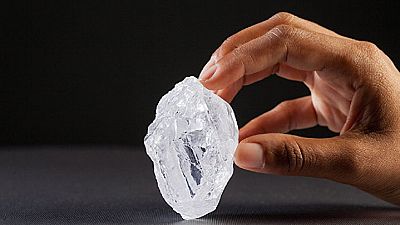 Sierra Leone has rejected bids for one of the world's largest diamonds at an auction on Thursday.
The 706-carat gem, which is the second largest ever discovered in the country, was unearthed in March in the eastern Kono region by a pastor who gave it to the government to handle the sale.
Five bids were handed to auctioneers in a sealed brown envelope, ranging from $2 million to $7.8 million and all were rejected.
Chief auctioneer and head of the National Minerals Agency, Sahr Wonday, told a packed room that the bid was below the government's reserve amount.
The government now hopes to get more for the stone at an international auction in either Antwerp, Belgium or Tel Aviv in Israel.