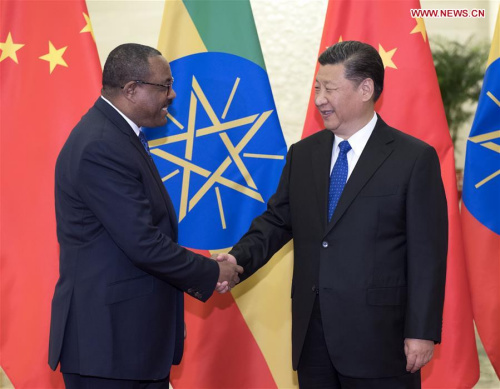 Chinese President Xi Jinping and Premier Li Keqiang met with visiting Ethiopian Prime Minister Hailemariam Desalegn, this Friday.
Desalegn is in Beijing to attend the Belt and Road Forum for International Cooperation scheduled for May the 14th and 15th
According to Xi Jinping, China welcomes Ethiopia's participation in the Asian Infrastructure Investment Bank, and supports its role as a bridge between the Belt and Road Initiative and Africa's development.
The Belt and Road Initiative is a farsighted initiative with global implications, which will promote connectivity and cooperation in trade and investment.
And Prime Minister Desalegn says Ethiopia will actively join in the construction of the Belt and Road.
The two countries are working to elevate bilateral relations to a comprehensive strategic partnership of cooperation.