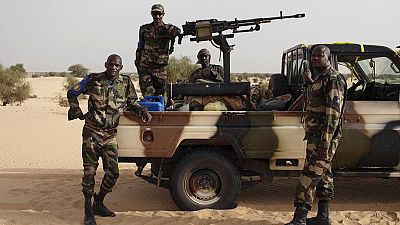 Eight jihadists have been arrested in nothern Mali. According to a Malian security official, the arrests were made by French forces in the Timbuktu region.
France intervened in Mali in 2013 to drive back Islamist groups that seized the desert north a year earlier and maintains a regional operation aimed at stamping out insurgents.
Mali's restive north has been home to insurgent groups that have caused killings and driven hundreds of people from their homes.
Such arrests in Mali's north are frequent, with 600 suspected Islamist extremists detained since 2013 .
Authorities in Uganda have acknowledged that its security forces killed more than 100 people in an assault on a tribal leader's palace last year.