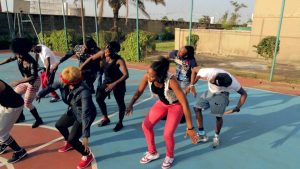 TVC N. Kafayat Oluwatoyin Shafau, leading Nigerian dancer, is extremely miffed at Nigerian artistes who disrespect dancers, case in point, David 'Davido' Adeleke.
Kaffy, in a fiery video posted on social media, used profane terms to describe Davido whom she claimed fired dancers after already agreeing to work with them.
"This message goes to Davido. Mr Kamal, please I need you to play this message to him", she said, in reference to the singer's manager.
She continued: "This is from all dancers around the country who have sweated one day or the other when he was still rising up a star.
"For him to fire dancers and tell them that he doesn't need dancers when they are about to get on stage after he has agreed to put them on stage, telling them he doesn't need dancers when they are already on stage.
"That is unethical and unprofessional", Kaffy added.
She noted that dancers would no longer be trampled upon, especially after contributing to the development of artistes.
"It's alright if artiste don't need us. We are artistes ourselves. It is very disrespectful for you to look down at and trample on people who in one way or the other contribute to where you are today. Dance is our widow's mite to a lot of your careers.
While advocating for respect for her peers, Kaffy insinuated that Nigerian artistes also tend to disrespect stylists, band members and all others beneath them in the music industry.
The founder of Imagneto Dance Company advised Davido not to seek the services of dancers if he cannot show them respect and honour their contract.
"People pay a lot of money to see you come out and give a good show… it requires more than you jumping all over the place with no content.
"Even some artiste in other countries who perform alone still plan their craft. They practice, they rehearse, they are never tired of doing better than their last.
She also criticised Davido for not taking pre-performance rehearsals seriously.
"50-60 dancers practice for 2-3 weeks… only for you to get there and you are messing up rehearsals as if they are not human beings.
"The same thing goes to all of you artistes who think we are nothing. Where was your guts 5, 10 years ago when you were supposed to stand on that stage 5, 10 years ago to perform to people?
"Now that people are screaming your names, you think you don't need dancers?", she asked.