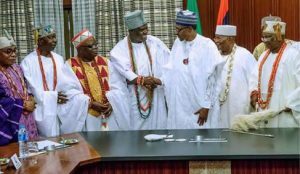 President Muhammadu Buhari has assured that his administration is doing everything possible to tackle security challenges in the country.
He stated this when he met with the traditional rulers from the South West, led by the Ooni of Ife, Adeyeye Ogunwusi, in Abuja.
Responding to an address by the traditional rulers, the President said;
"Working with the state governments, we intend to beef up the equipping of the police force with advanced technology and equipment that can facilitate the work of the security agencies."
He also sent a note of warning to those fomenting trouble and insecurity to the country
In his words.
"On our part, as the Federal Government, we are ready to deal decisively with anyone that is fomenting this spate of criminal activities by every means necessary. We intend to deal severely with those evil Nigerians inciting violence for political ends."
The Ooni of Ife on behalf of other traditional rulers expressed willingness to assist the fight against corruption in the country.