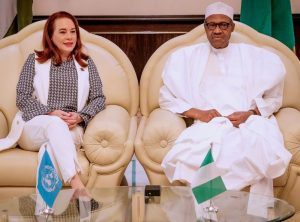 The President of the United Nations General Assembly, Maria Fernanda Espinosa Garces, has met with President Muhammadu Buhari at thepresidential villa, Abuja.
Top on the agenda are issues of Nigeria's transition as the President of the 74th session of the UNGA and the important role Nigeria plays in regional peace and security with the foreign affairs Minister.
Other programmes lined up for the UN General Assembly President include a visit to the university of Abuja and Ministry of women affairs.
Ms. Espinosa-Garces will be leaving for Ghana on Wednesday, as the final stop of her official trip to West Africa.