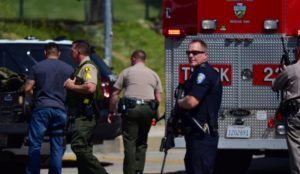 Police officials have identified the gunman who opened fire in a U.S. synagogue, killing one woman and wounding three others.
The suspect, nineteen-year-old John Earnest, initially fled the synagogue which was crowded with Sabbath worshipers.
He was later arrested when he surrendered to police after what is believed to be a hate crime on the last day of Passover.
Investigators are examining a "manifesto" he apparently left behind on social media along with other digital evidence.
They are also probing his possible involvement in an unsolved arson at a nearby mosque about a month ago.