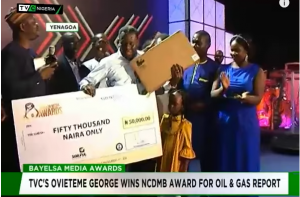 TVC's Ovieteme George's entry "Oil Exploration and Pollution: The Niger Delta Situation" has won the NCDMB "Best report on "Oil and Gas" at the 2018 Bayelsa Media Awards. The entry was unanimously picked by a panel of adjudicators as the "Best Report On Oil and Gas" sponsored by the NCDMB.
Representative of the NCDMB and the project Manager, Bayelsa Media Awards wants the annual awards to change the narrative of Bayelsa and the Niger Delta.
It was a beautiful night and one to remember for other award recipients at the 2018 Bayelsa Media Awards.