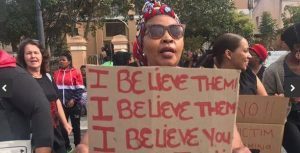 The #TotalShutDown movement on Wednesday gathered outside the Port Elizabeth High Court to show support for Cheryl Zondi who is under cross-examination in the human trafficking trial involving Nigerian pastor Timothy Omotoso.
The women, dressed in black and red, picketed and sang songs in Zondi's honour.
South Africans on social media have rallied behind Zondi and she has been commended widely for her bravery on the stand.
Placards read: "I believe them. I believe them. I believe you Cheryl Zondi."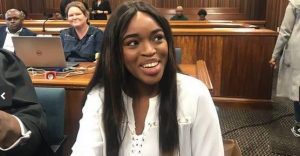 #TotalShutDown said it believed the survivors and would stand in solidarity with them.
Zondi, 22, had earlier testified that she was raped and sexually abused by Omotoso when she joined the Jesus Dominion International (JDI) in 2009 at the age of 13.