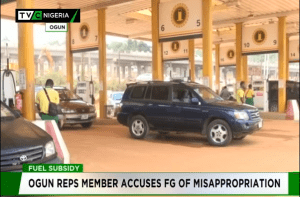 The Chairman, House of Representatives Committee on Rural Development, Oladipupo Adebutu has accused President Muhammadu Buhari of committing grave democratic crime with the 774 million Naira daily subsidy claim on fuel importation.
The lawmaker who is representing Remo Federal Constituency of Ogun State made this known while addressing journalists after a stakeholders' meeting of Peoples' Democratic Party, in the state.
Adebutu alleged that monies meant for other projects are being diverted for the purpose of paying subsidy without proper budgeting by the National Assembly.
He condemned high level of corruption and illegality going on under Buhari's watch.