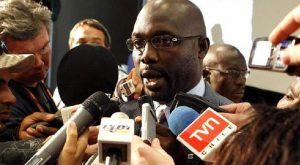 George Weah has been sworn in as Liberian president, completing historic transition of power. The President took to
 his twitter handle to announce that, "In the future months, together, we will need to work harder than ever for Liberia to grow stronger. This is our opportunity to reveal to the world the true potential of our country."
For the first time since 1944, Liberia will have a democratic transfer of power as former soccer star George Weah is sworn in as the country's new president today (Jan. 22).
Weah won the presidency after run-off elections last December with 61.5% of votes. He takes over from Ellen Johnson Sirleaf, Africa's first elected female president, who steps down after two terms of six years each.
Weah's ascent to the presidency after a short period as a senator and a long, illustrious career as one of world soccer's most decorated stars, has been well chronicled. But beyond that, after finally winning the presidency at his third time of trying, Weah is faced with his toughest challenge yet.