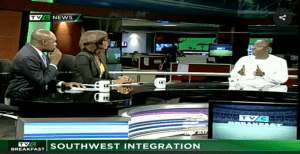 A Public Affairs Commentator, Biodun Sowunmi has expressed optimism that the recent move bythe Southwest governors towards regional integration will achieve its set objectives irrespective of their political differences.
Sowunmi said the need to integrate the southwest region has become imperative, notwithstanding the political differences of the political class.
He disclosed this on Wednesday when he featured on TVC News' morning programme, Breakfast Show.
The six governors of Ogun, Oyo, Osun and Ondo, Ekiti and Lagos, had on Monday, met in Abeokuta, the Ogun state's capital to map out ways of integrating the region. The governors, at the end of their meeting, came out with a 25 year plan that will help in returning the fortunes of the region to the path of self sufficiency.
It would be recalled that the recent move to integrate the region was not the first by the Southwest governors, but previous attempt has been truncated by their political differences.
But responding to question on whether the governors will have a common voice this time, Sowunmi said :
" Yes, it's most likely that it's going to work this time irrespective of their political differences because it has become imperative people look inward, not necessarily because of the agitations for restructuring the country into regions; there is need for them to integrate on how they can take care of the people that will reside in the new southwest, whether you call it zone or region, if the country is eventually restructured.   The other reason is as a result of the dwindling prediction of oil consumption occasioned by technological advancement where motor cars are now using electricity and water. So, we are bound to look inward to see how we can effectively take care of the shortfalls since the country largely depends on oil revenues. And we also have the common security challenges in the region. Lagos battles against Badoo, only to find out that Badoo has relocated to Ogun State. So, they need to come together and see how they can collectively tackle the problem. If the country is restructured, they will need to see how they can develop a common transport system, airport and railway system that will help shape their economy."
Sowunmi recalled that the old western region led by the late sage, Obafemi Awolowo, was a pride of Nigeria where revenues from agricultural produce were used to build enviable structures across the region.
"People have forgotten that what they now called Oodua investment was the vehicle Awolowo used to drive integration then. They now have common assets, you only need to go to Ikeja, Marina and see some of these assets. The buildings there were mostly owned by Oodua investments. But we abandoned that, when we discovered oil. Southwest governors are now going back to that. With Lagos joining Oodua Investment, I think about a year and a half ago, Lagos is bringing in the cash which many states don't have."

Reacting to question on State Policing, Sowunmi said:
" Well we are hoping that will happen especially with the big support and push for it (State Police). But what the governor came out with is, they have an arrangement in place now where they encourage Commissioners of Police in all the six states to collaborate and see how they can get funding support from all state governors. Whether they have direct control over the Police or not, once the governors are able to do that, they will be able to collectively tackle security challenges in their region."
He expressed optimism that the 25 year plan for the southwest region will yield the desired result because of the urgent need to diversify.
" It's quite clear that the plan will surely happen because there is need for us to diversify, not necessarily because we wish to diversify, but because we are forced and constrained to diversify. We are being forced to diversify because of the changing structure of global economy. The global economy is increasingly depending less on oil and unfortunately, oil is a major foreign exchange earner of our economy," Sowunmi said.
He advised the six governors in the southwest region to focus on an all encompassing project that will lead to radical infrastructural and economic development.
" I think every aspect of economy is important. They need to focus on all these aspects, be it road, transportation, electricity and so on, Sowunmi said."