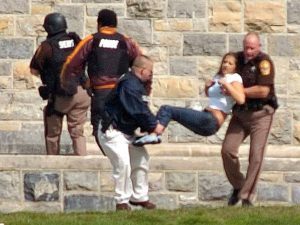 Authorities said they are investigating a fatal shooting at an Alabama high school as apparently 
accidental, lamenting the death of a 17-year-old female student in the incident that also left a 17-year-old boy injured.
Birmingham Interim Police Chief Orlando Wilson said investigators are seeking to piece together the exact circumstances surrounding

Wednesday

 afternoon's shooting at dismissal time at Huffman High School, one of the city's largest.
He added that the probe will involve scouring school surveillance video for clues and completing interviews among students and staff at the large magnet school.
"At this particular time, we are considering this accidental," the police chief said at a news conference 

Wednesday

 afternoon just hours after the shooting. "Right now we have a lot of unanswered questions."
The shooting prompted a brief lockdown though students were subsequently released late 

Wednesday

 and authorities said they had subsequently determined that the shooting was not perpetrated by "someone from the outside" the school.
Wilson declined to say who fired the gun or to identify what firearm, adding it had been recovered by authorities.
No arrests were immediately reported and the two students weren't identified.
He said police have already questioned students but declined to say how many. Wilson did confirm metal detectors were in place and functioning in the school.
Huffman High in northeast Birmingham is one of the largest high schools in the city. The Birmingham City School system said in a statement that the shooting prompted a brief lockdown and added two students were involved as school was letting out. It later said the schools would be open 

Thursday

 even as civic leaders and others were mourning the loss of life.
Multiple bills also have been proposed in the Alabama legislature after 17 people were killed last month in a shooting rampage at a Parkland, Florida, high school.
Varying proposals by Republicans would arm either teachers or volunteer security forces in schools. Meanwhile, measures sought by Democrats would seek to limit or ban the sale of assault weapons. The proposals face a tight deadline before the end of Alabama's legislative session this election year.