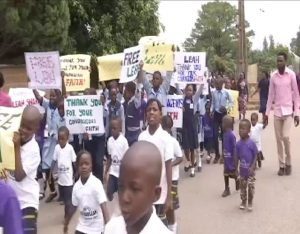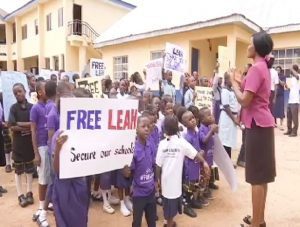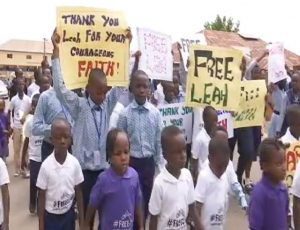 Some pupils from four different Private schools in Jos staged a peaceful march to mark Leah Sharibu's 16th Birthday.
The Pupils, carrying placards went round the streets of Jos calling on the government to put more efforts toward securing her release from captivity
The pupils were from four different private schools in Jos the Plateau State capital.
They Marched in solidarity of a teenager like them, who remains in captivity of Boko Haram, more than a year after they abducted her and 111 others from Government Girls Science and Technical College Dapchi Yobe State on 19th February, 2018.
On the 21st of March 2018 the Federal government of Nigeria announced that the terrorists had returned 106 of the abducted children, including 104 girls who went to the school, one girl who did not and a boy.
Unfortunately Leah Sharibu was the only one not released by her captors.
Her situation ever since has attracted worldwide condemnation with different groups calling on the Nigerian government to intensify efforts to see that Leah is set free.
She celebrated her 15th Birthday last year without family and friends and today will be the second year she will be marking her birthday in captivity.
The significance of this birthdate, her 16th, has civil society groups up in arms.
The March by school Children her age to press home the need for more protection for schools.
The students also appealled to the Nigerian government and the international community to set in motion, tangible moves towards Leah Sharibu's release.
The President of the Leah Sharibu foundation, who also joined the peaceful procession, appealed to the wife of Nigerian President, Aisha Buhari, to stand in the gap of all mothers to impress upon Government, the need to fulfill the promise it made to Leah's parents to bring her back home safe.
As Leah Sharibu celebrates her 16th Birthday in captivity, it is the prayer of all concerned individuals and groups that it will be the last she will witness without family, friends and well wishers.