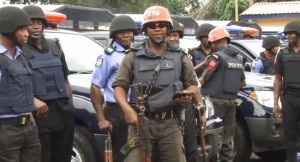 Two rifles snatched from a marine crew of the Nigerian Immigration service in the Niger Delta last December have been recovered.
They were handed over to Delta state Commissioner of Police by the traditional ruler of Ogbe-Ijoh community in the state.
Correspondent Carl Ofonye reports that the two automatic weapons  were seized from Immigration officials who were on routine patrol in the Creeks of the Niger Delta region to check the influx Of illegal aliens into Nigeria through the water ways.
According to reports, the Immigration officials the guns were assigned to were also abducted and held hostage for some days before being freed.
The missing guns became a source of worry to security agencies in Delta state after the Immigration officials were released.
But the traditional ruler in whose domain the ugly incident happened has now demonstrated that security of life and property is not strictly police business.
The first class monarch enjoined the relevant security agencies in the Niger Delta region to always synergise with traditional rulers on security issues. He insisted that the traditional rulers are in a better position to gather intelligence from the local people, especially those within their domains when there are security breaches.
Responding after receiving the guns, the Delta State Commissioner of police, Zanna Mohammed Ibrahim commended the monarch for his patriotism. Ibrahim acknowledged that not every monarch can exhibit such patriotism.
The police Commissioner appealed to the Niger Delta Militants and other youths to shun acts capable of portraying the good people of the region in bad light.
The soft-spoken cop regretted that a few individuals with criminal intents are painting the entire people of the region black.