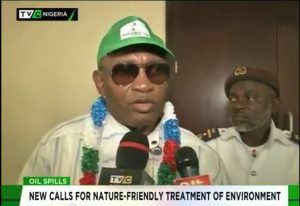 Nigerian government and international oil companies have been advised on paying greater attention to saving the environment as the country looks forward to getting the renewed drive in its oil investments.
This was the view of participants at an Environment Seminar in Yenagoa, the Bayelsa State capital.
TVC NEWS Correspondent Ovieteme George reports that a 2014 statistics by the Commissioner For Justice, Kemasuode Wodu reveals that the state suffered about 1000 oil spills without proper remediation.
This depletion of the environment is made worse by the continued flaring of in Bayelsa.
The state Deputy Governor Gboribiogha Jonah and other participants at the 2017 world Environmental Day want a holistic approach to the problem.
A conscious move to regenerate the environment and revive the ecosystem require an active role by the International oil companies.