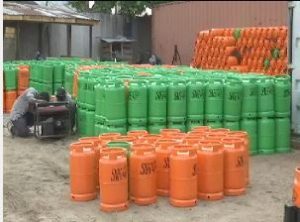 The Standards Organisation of Nigeria has cautioned Nigerians to stay away from used gas cylinders because they are potential bombs waiting to explode.
The standard agency issued the warning following the seizure of five thousand imported LPG Cylinders that failed standards specifications.
Describing the cylinders as highly dangerous to use, it was noted that higher cylinder capacities like 12.5 kg and above can not be used as camp gas.
The continued usage of imported used gas cylinders is said to be responsible for the many avoidable cylinder explosions across the country which had led to wanton loss of lives and properties.
Those dealing in the LPG gas cylinders and accessories are being urged to abide strictly by the safety requirements in the relevant Nigeria Industrial Standards