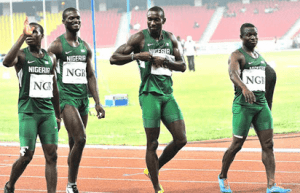 Members of the Athletics Federation of Nigeria, AFN are now trading blames over the whereabouts of the 150,000 dollars the world athletics body, IAAF, sent to Nigeria in 2017
In an exclusive chat with TVC News the Technical Director of the AFN, Sunday Adeleye, said the present board of the Federation did not meet the money.
The world body has withheld prize monies won by Nigerian athletes and has threatened sever action if the balance of the sum is not returned.
Sanctions could include disqualification from the 2019 World Athletics Championship, the All Africa Games and the Tokyo 2020 Olympics.
Adeleye claims the IAAF mistakenly sent the money during the transition from the old board to the new
But another member of the AFN, and Sydney 2000 Olympic gold medalist, Tafida Gadzama, has disagreed.
Gadzama is one of only three members of the previous board led by Solomon Ogba, who is a member of the current AFN.