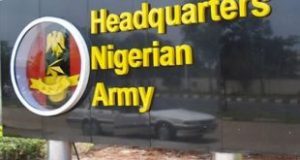 The General Officer Commanding , 2nd division of the Nigerian army ,Chukwunedu Abraham says the Nigerian Army will continue to protect the territorial integrity of country.
Abraham spoke at the opening of the inter brigade competition involving five brigades of the division in Akure army cantonment .
The competition is an annual ritual designed to keep in tune physical fitness and formation alertness of officers in order to provide adequate security for the country.
Abraham added that the Nigerian army is ready to expose its officers to modern way of tackling insurgency.
He charged officers of the division to rededicate themselves to formations and rules of engagement for better performance in security provision.