Nigeria and Norway have resolved to strengthen trade relations.
Both economies with the same Gross Domestic Product size believe that fresh investment opportunities to be explored abound, as trade volume between both countries stood at $30 billion.
The Norwegian Ambassador to Nigeria, Jens-Petter Kjemprud, explained that there was a lot both countries can do together, pointing out that Norway was making plans to increase investments in Nigeria's oil and gas industry, with focus on the power sector.
The Ambassador, adviced at a stakeholers meeting in Lagos that Nigeria's manufacturing sector can only compete globally if the power supply in the country is improved and cheap.
Jens-Petter said;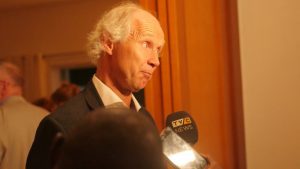 "Nigeria needs renewable energy to take root in the country and incentivize investments."The power sector needs to be regulated and organised to attract investments. There are huge investment opportunities in the power sector and there is also need to secure these investments.
"He tasked the managers of the Nigerian economy to deploy the use of technology in all sectors of the economy to achieve accelerated economic growth".