Natives of Gbagyi Karu Chiefdom have held their 5th Cultural festival in Abuja, to showcase the rich heritage of the Gbagyi tribe. The annual event which holds on the second day of each year features various cultural displays such as dance, music and other interesting cultural performances.
It is that time of the year, when sons and daughters of the Gbagyi tribe gather together to celebrate their rich Cultural heritage. The Gbagyis are spread across five states in Nigeria, Niger, Nasarawa, Kaduna, Kogi and the FCT.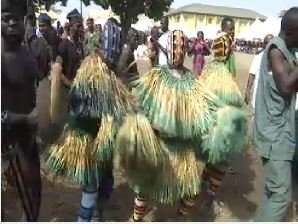 This interesting festival brings with it an opportunity to strengthen bonds of Unity between the seven Gbagyi Chiefdoms i the FCT as natives from all tribes are represented here
Adorned in various cultural apparel, cultural performers thrill their audience with various displays ,music and dance to showcase their rich culture and tradition. Hunters also displayed their hunting skills with bows and arrows and locally fabricated guns.
The celebration is in line with the Federal government's policy of diversifying the economy by promoting culture and tourism for National development. But the indigenes also used the platform to express what is closest to their hearts, appealing for more inclusion in the Affairs of government.
The event aimed to preserve the culture of the Gbagyi people who form part of the nine ethnic groups in the FCT and they believed this annual Celebration will awaken the cultural awareness of its people and by extension, all Nigerians.