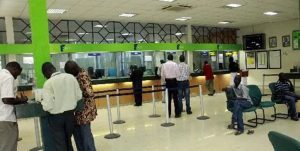 Credit rating company, Moody's said the outlook for Nigeria's banking system remains stable as foreign currency liquidity risks moderate due to rising oil prices and a more liberal foreign exchange policy.
Despite its report, Moody's expects bank earnings to come under pressure and Capital metrics to decline marginally over the 12 to 18 month outlook period
It forecasts a recovery in real GDP growth over the next two years, up from 0.8% last year, helping lending growth rise to around 10% after a 15.4% contraction in 2017.
According to the moody's, Nigeria's growth prospects remain vulnerable to global oil prices, as crude oil will remain the nation's main generator of foreign currency for the foreseeable future.