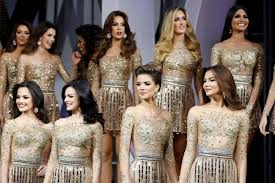 The Miss Venezuela beauty pageant said on Wednesday it will investigate possible unethical conduct by its contestants following a vitriolic social media spat that saw former participants accusing each other of inappropriate behavior.
A group of ex-Miss Venezuela contestants, in a confused flurry of social media posts this month, insinuated that other participants had sought to enrich themselves through romantic relationships with corrupt businessmen and officials.
"Given the events recently described on social media, a decision has been made to begin an internal review to determine if anyone linked (to the pageant), during the course of their involvement, violated the values and ethics of the contest," the Miss Venezuela Organization said in a statement.