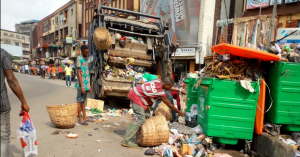 Asiwaju Bola Ahmed Tinubu has assured the PSP Operators in Lagos that he would look into their petition and find a solution to their issues in the state.
The APC National leader made the assurance while receiving members of the Association of Waste Managers of Nigeria.
The agitators said they want Tinubu to help them restore their jobs in the State.
Tinubu responded that he is worried about the present State of some streets in Lagos being littered by garbage and refuse and he will work with the governor, as the initiator of the PSP operations to make sure Lagos is clean again.
He urged the Waste Managers to be ready to restore cleanliness to the State to achieve Governor Ambode's vision of a mega city.