Media associations in Hong Kong have expressed their shock and deep concern after city immigration authorities denied a work visa to a prominent journalist.
Victor Mallet, an editor for the Financial Times and the Hong Kong Foreign Correspondent's Club (FCC) vice president, was on Friday denied a visa.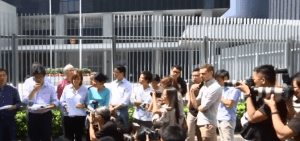 Representatives from six media groups, including the FCC and Reporters Without Borders (RSF), delivered petitions on Monday to Hong Kong's government requesting a justification for the perceived expulsion of Mallet.
The petitions, in English and Chinese, have garnered more than 15,000 signatures combined over the weekend.
Chair of the Hong Kong Journalists Association,
Chris Yeung, said the immigration authorities' decision "sets a terrible precedent for Hong Kong's reputation."
FCC president Florence de Changy said the journalists are "simply asking for a reasonable explanation from the Hong Kong authorities on this issue and that the ball is now in the government's court"