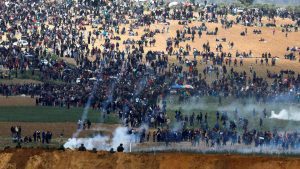 Israeli forces killed at least 28 Palestinians along the Gaza border on Monday, health officials said, as demonstrators streamed to the frontier on the day the United States prepared to open its embassy in Jerusalem.
Palestinian demonstrators gather during a protest against U.S. embassy move to Jerusalem and ahead of the 70th anniversary of Nakba, at the Israel-Gaza border in the southern Gaza Strip May 14, 2018. REUTERS/Ibraheem Abu Mustafa
It was the highest Palestinian single-day death toll since a series of protests dubbed the "Great March of Return" began at the border with Israel on March 30 and since a 2014 Gaza war.
The health officials said 900 Palestinians were wounded, about 450 of them by live bullets.
Tens of thousands gathered at the frontier on Monday, some of them approaching Israel's border fence – a line Israeli leaders vowed Palestinians would not be allowed to breach. Black smoke from tyres set alight by demonstrators rose in the air.