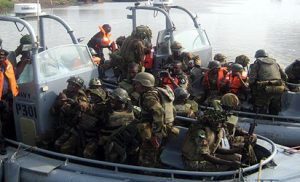 Lasting peace in the Niger Delta may not be achieved if the Federal Government fails to show more commitment and sincerity of purpose.
This was the position of new mediator group, Pan Niger Delta Peoples Congress (PNDPC), when a delegation from the United States Consular-General's office in Lagos, paid a visit to its members in Warri, Delta State.
The Niger Delta has, over the years, witnessed unrest mainly from youths agitating for attention to its deplorable state of underdevelopment .
The Amnesty Programme may have reduced the tension of the oil-rich region, but periodic agitations have led to a depletion of Nigeria's external reserves as a result of attacks on critical national assets.
The PNDPC seeks a permanent solution to the crisis at the visit of a delegation from the Lagos office of the United States Consulate General's
Urging militant groups in the Niger Delta to embrace dialogue, members of the PNDPC urge the Federal Government to show commitment.
Both parties have expressed commitment to sustain peace in the Niger Delta.