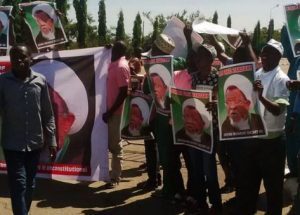 The Islamic Movement in Nigeria has announced temporary suspension of 'Free Zakzaky' street protests nationwide.
This according to the IMN is to allow for openings to resolution, especially the court case it has instituted.
The Shi'ite sect says it has taken this step in good faith and respect for eminent people and groups whose input appears genuine.
It adds that should there be any protests in the country, such could be from mischievous security agents or members of the movement yet to hear of the suspension notice.