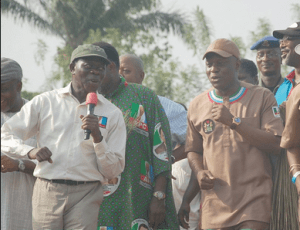 Former Governor of Edo State, Adams Oshiomhole, has declared his intention to run for the office of the National Chairman of the All Progressives Congress.Oshiomhole said he is joining the race to contribute to the growth of the party.
The former Edo governor  was recently endorsed by President Muhammadu Buhari and a large number of APC Governors. He is highly optimistic he can lead the APC to enviable heights.
Enumerating some of the challenges that has bedeviled the party since it came to power, he said the party's leaders need to imbibe the concept of party supremacy, when dealing with party matters.
He stressed that party supremacy flows from the implementation of decisions democratically debated, towards reaching a consensus.
The declaration was received by the creme de la creme of APC, who in turn, expressed their support and confidence in Oshiomole as the right man for the job.
The former Labour leader is expected to be the main challenger to the incumbent chairman, John Odigie-Oyegun, if the latter decides to seek re-election.