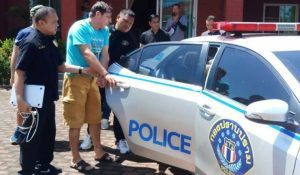 An Italian man accused of posing as George Clooney to sell clothes online has been arrested with his wife in Thailand after years on the run.
Franceso Galdeli, 58, and Vanja Goffi, 45, were arrested by a joint operation of Interpol agents from Rome and Thai investigators.
The couple,had been wanted on an Interpol red notice since 2013
Galdeli was arrested on Saturday on suspicion of staying in the country illegally, while his wife was arrested on suspicion for overstaying her visa.
Clooney sued them in a 2010 trial in Italy and testified against them, saying they had fraudulently used his name.
The Oscar winner said he never approved any affiliation with the bogus brand "GC Exclusive by George Clooney".