The first set of funerals of victims of the mosque shooting that saw 50 dead and many injured have taken place in Christchurch.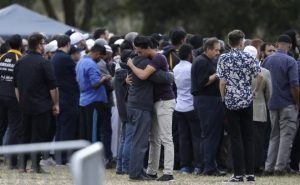 Hundreds of mourners gathered at a cemetery near the Linwood Islamic Centre in Christchurch, one of two places of worship targeted last Friday to witness the burial of a father and son from Syria today.
A top police official revealed the suspect accused of carrying out Friday's terror attack in Christchurch, New Zealand, was likely on his way to carry out a third shooting before he was stopped by authorities.
Prime minister Jacinda Arden who is back in Christchurch says the country will hold a two minutes silence to commemorate victims of the mosques attack on Friday.