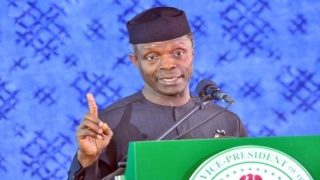 Vice president Yemi Osinbajo says the recapitalization of the bank of agriculture will boost the sector's reform efforts.
Osinbajo who was represented by the agriculture minister, spoke at the inauguration of a committee on the recapitalization process.
Lara Afolayan reports that the vice president, who chairs the National Council on privatisation, is unavoidably absent at the gathering but his take on the development is passed across by the agriculture minister.
The idea behind the restructuring initiative is to allow the bank of agriculture be more responsive to providing loans to Agri-business operators and smallholder farmers among other functions.
The Central Bank of Nigeria, is part of this committee and plays a key role in this regard.
The bank of agriculture has existed for over twenty years and various setbacks limit it's operations. They include poor funding, poor stakeholder buy in and erosion of shareholders funds.
It's managers are hopeful things will change with the renewed attention the bank is now getting.
It has yet to be made known how much the agriculture bank will be capitalized with.
But the steering committee members are positive the amount eventually put together to revitalize the bank will go a long way in helping the country feed itself and also export.