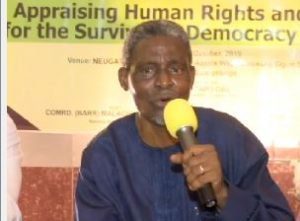 A Professor of Law and Human Rights Activist, Ibidapo Obe, said Nigerians must work together to proffer solutions to problems facing the country.
He made this known at the Annual General Conference of the Committee for the Defence of Human Rights in Abeokuta, Ogun state.
Kazeem Olowe  reports that it was a gathering of human rights activist in the Country and their focus was on how to make the country better.
Speaking on the theme, appraising human rights and security for the survival of democracy in Nigeria, Ibidapo Obe said human rights ethics in
Nigeria is on the decline. He noted that justice is no longer for the masses but for the highest bidder.
He alleged that people no longer respect right to privacy and fair hearing in the country.
Obe added that Nigerians must be able to assemble whenever they want and have freedom of Association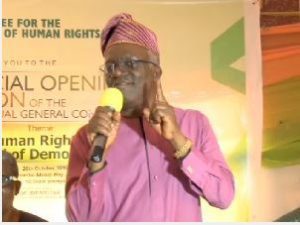 On his part, Chairman, Board of Trustees of the Committee for Defence of Human Rights, Femi Falana called on human rights groups to work together in fighting the cause of the people.
He noted that the Constitution of the country must be respected
Participants at the event want the government to do away with things that are not in line with Democratic principles and to always put the interest of the people first in all their Programmes.