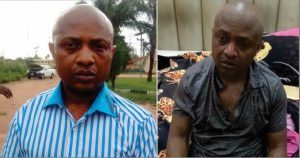 The police have described as "misleading" a newspaper report that said kidnap kingpin Chukwudumeje Onwuamadike alias Evans has "vanished" from it's custody.
The police also urged Nigerians not to fret over the report while assuring that Evans was safe and still in custody.
According to the spokesman for the Force Headquarters, Jimoh Moshood, a Chief Superintendent of Police (CPS), those peddling the rumour are mischief makers who were only out to tarnish the image of the police.
In a report on The Nation's website seen by TVC News, Moshood was quoted as as saying that the media should avoid propagating such stories.
He said : "The media need to avoid stories that could create fear, tension or misrepresentation among the masses. Where did Evans vanish to? That headline was misleading. The suspect and his accomplices are very much in our custody.
"We are working hard to ensure that justice is served at the end of the day. There are certain information that are not for public consumption to avoid jeopardising investigation or even national security.
"Evans is with the police. His whereabouts is known but cannot be made public. We are appealing to Nigerians to remain calm and support the police to conclude its investigation."